Juicy Words to Live By | Coco Chanel
We absolutely love and identify with this notion, hence our ongoing search for the "couture" in the everyday. Enjoy! xx
Juicy Words to Live By | Audrey Hepburn
As designers we take much of our inspiration from images, but words are equally as powerful and transformative.  To that end, we unveil Juicy Words to Live By, where LeAnn will share some of her favorite quotes and inspirational words of wisdom. Enjoy! xx
Juicy Finds | Lana Del Rey
We can't stop listening to Lana Del Rey's new single "Born to Die" released today. She's so glamorous and cool and Hollywood. Reminds us a little of someone else…
Photo by Jacob Sutton for W.
Love to Love | Absolutely Fabulous is Back!

Here's the deal. If anyone appreciates the delicious and hilarious fun of Excess, it's us! So to say that we're anxiously and excitedly counting-down-the-seconds to the return of Patsy Stone and Edina Monsoon this Sunday evening, would be nothing short of an understatement. We're going to invite our best friend over, throw on our silk track pants, pop a bottle (or three) of bubbly, (maybe sneak a cigarette), and laugh our asses off at the BBC cult classic. You should too. xx
Photo by EW.com.
Mrs. Lilien's 12 Days of Christmas | Day 1

Chime the jingle bells + grab a hot toddy - join me in singing 12 Days of Christmas, everybody! I'm so thrilled to have partnered up with Juicy Couture - we've whipped up some holiday magic, that's for sure! Sing one, sing all, by golly it doesn't matter - just be sure to sit back and enjoy the chatter. I'll be posting 4 times per day for the next three days - I've got 12 verses of this carol to which I've spiced up each phrase - in so very many fabulous ways! Without further ado, let's kick this jingle off…
On the first day of Christmas
my Pharmacist gave to me:
A piping hot toddy.
What's a Mrs. sans the perfect prescription?? She's a hot mess bested by mental friction. All hail the apt pharmacist's intuition and generosity - for Christmas without a toddy is a godforsaken monstrosity!
21 Juicy Questions | Veronica Belmont
Although we didn't ask her even one gaming-related question, we still think Veronica Belmont is quite possibly the cutest gamer out there!
1. THE TECH ITEM I CAN'T LIVE WITHOUT:
 My iPhone and my Kindle.
2. THE WARDROBE ITEMS CURRENTLY IN TOP ROTATION:
 New Marc by Marc Jacobs "snood" from Shopbop.
3. A TREND I WILL ALWAYS SIT OUT:
 Uggs.
4. YOU'D LIKE TO TAKE ME OUT TO DINNER, I SUGGEST…
 Pizza! I love pizza of all kinds, and I'm always in the mood for it.
5. THE BEST THING TECH HAS DONE FOR FASHION:
Made it easy to keep up on the latest trends and news! My Google Reader is filled with fashion blogs.
6. THE SIGNATURE LOOK I WILL ALWAYS RETURN TO:
Dark blazer and jeans.
7. IT'S 10 P.M. ON SATURDAY YOU CAN FIND ME….
Probably finishing up a late dinner out or home catching up on my Tivo!
8. THE MOMENT THAT INSPIRED MY BUSINESS:
I don't think I can pick one moment!
9. MY STYLE ICON:
I love Alexa Chung's style. I also wish I could dress like a French woman from the 60's all the time.
10. MY CURRENT NON-TECH OBSESSION:
NaNoWriMo! I'm doing National Novel Writing Month in November, so that's going to take up a lot of my time this month. I have 30 days to write 50,000 words!
11.  YOU ASK FOR MY NO. 1 STYLE TIP, I SAY …
Pay attention to your skin! No matter what you're wearing, people notice your face first. Don't overdo the makeup…Keep your skin looking like it's actually skin and not pancake batter.
12. THE BEST GIFT I EVER RECEIVED:
My boyfriend gave me my favorite watch ever. It's Marc Jacobs from a few years ago, but I still wear it everyday. It's the number one most complimented-on thing I own.
13.  MY FAVORITE TRAVEL DESTINATION:
I love Sonoma County. My favorite weekend getaway is Yountville, since it's only a couple hours north of SF, and it has the best restaurants.
14. MY FAVORITE THING ABOUT LA IS:
Well, I don't live there, but it would probably be the weather. It's nice to get out of foggy SF for a little bit and experience some real California climate!
15. YOU SAY JUICY TRACKSUIT, I SAY …
Long plane rides.
16. MY MOST RECENT PURCHASE:
The aforementioned snood! Though it's really more of an infinity scarf.
17. THE LAST SONG I LISTENED TO:
"Step By Step" by NKOTB. Ladies, road trip sing-a-long!
18. THE LAST RECO-WORTHY BOOK I READ:
I'm currently reading Reamde by Neal Stephenson and it's amazing. It's long, but definitely not a slog.
19. THE LAST RECO-WORTHY MOVIE I SAW:
I don't usually get into action movies, but I loved Killer Elite. You can't beat having Jason Statham, Clive Owen and Robert De Nero in the same movie!
20. MY CURRENT GIRL CRUSH:
Emma Stone. She's younger than me, but I'm pretty sure we'd be BFF.
21. FAVORITE NAIL POLISH COLOR
I'm rocking olive green right now, but I usually love grey nail polish, like Chinchilly from Essie.
LeAnn's Favorite Things | No Shades of Gray
Sometimes everything is black and white and right now is one of those moments. We asked LeAnn to chime in on the mood. As usual, we admire her good taste and success in avoiding any shades of gray…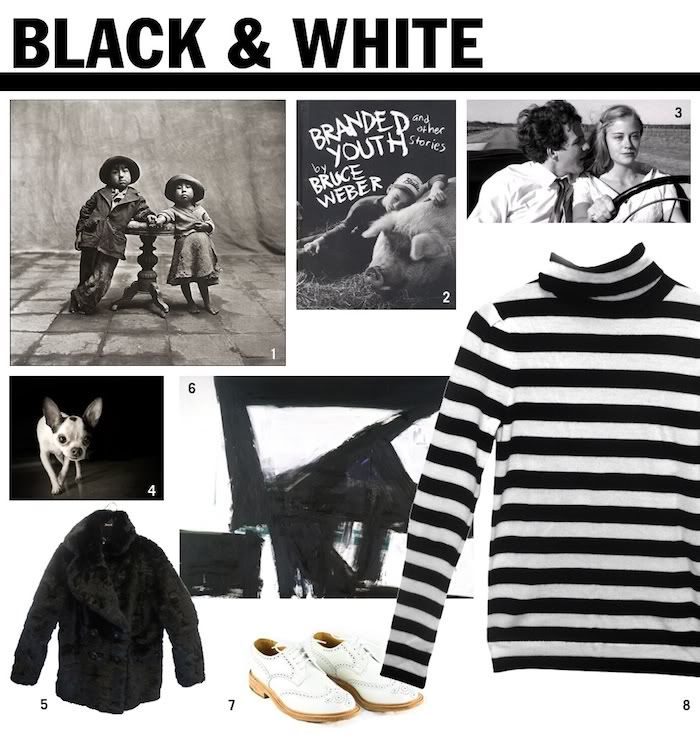 1. Irving Penn – He is my favorite photographer and I have always loved this particular image.
2. Branded Youth & Other Stories by Bruce Weber – This is a great resource for inspiration; I used to work with Bruce way back when.
3. The Last Picture Show – Some of my favorite movies are old black and whites, The Last Picture Show is one of those classics I can never see too many times.
4. Chihuahua – I have been searching for a teacup Chihuahua to add to my family of pets—this particular little guy would be perfect.
5. Black Faux Fur Coat – Everyone needs this—especially the New Yorkers out there! It is super cozy and chic. You can dress it up over a sparkly party dress or wear it with simple jeans and great shoes.
6. Franz Kline – This abstract painting would be a fabulous addition to my office!
7. Trickers – I have been wearing these for years. My husband sells them out of his shop in the West Village and got me these white ones, which are my personal favorite.
8. Black & White Turtleneck – This is my go to staple for winter—it is so cozy and cute and great underneath everything.