Behind the Couture | Meet Our Wild Summer Friends
Inspired by exotic creatures and places alike, this summer our designers give a nod to Critter Couture with clever designs like the Kissing Cockatoos Bangle, Tropical Fish Studs and Parrot Stacking Ring. We like to pair them against a cool tropical print.
Now Hear This | Harley's Coachella Road Trip Playlist
Our Coachella correspondent, Harley Viera Newton, hits the road today for Palm Desert. We asked her what a DJ would play in the car on the way to a music festival. Here's what she came up with—download it now!
Juicy Water Cooler Talk | Haring, Flowers & Ivy
There's always some interesting Monday morning chatter recapping the weekend's events (not that we're taking notes or anything), and they're just so juicy we thought it only fair to spill them here. After all, everyone needs a little inspiration!
1. Keith Haring at the Brooklyn Museum: It happened to be the "Target First Saturdays" in Brooklyn so it's free after 5 p.m. To avoid the crowds I went at 3:30 pm. The show chronicled Haring's work from his arrival in NYC to the beginnings of his public art. It was pretty awe inspiring to see such a vast array of his work from sketches, Polaroids, subway art to his paintings. Some of them were pretty large in scale. It was important to me, especially from not being from NY, but always loving it, to really check out work from this period. His emphasis on public art, and sharing art with the masses really blazed the trail for art as it is today. My favorite piece was a piece of subway art that he did with Jean Michel Basquiat.
2. Venice Beach: Once in a while, I escape from Hollywood for a weekend at the beach. Even though the beach is only 20 minutes away, it feels like a mini vacation! Venice has such a cool laid back vibe. You can spend a whole day just laying on the beach, people watching and renting bikes. The Venice board walk is filled with eccentric people and amazing artists. You actually feel like you're walking through a moving painting. Right behind the Venice bored walk is Hotel Erwin. They have just re-built their rooftop. I stopped there for lunch on the way home.
3. Rose Bowl Flea Market:  YOU GOTTA GO EARLY!  This place is a jackpot for mid-century modern furniture. If you're lucky, you may even stumble across an
Eames… But you have to be quick! There are some pretty competitive professional hunters. I have pretty much decorated my entire apartment with amazing pieces from the Rose Bowl. Also, this massive flea market is surrounded by gorgeous mountains and old mansions, which only makes the experience that much more pleasant. You cannot help but get inspired when you come.
4. The Ivy at the Shore: One of LA's favorite restaurants. So old school, preppy and classic.  It took my a long time to realize how cool this place really is. The color palette of the whole restaurant is pastel pinks and greens—accented to the max with fabulous floral textiles and nautical themed trinkets.  Also, The Ivy overlooks the Ocean, which is
always beautiful. The waiters are charming, and also accented with floral ties. They are known for their fabulous cocktails, but I recommend the grilled vegetable salad.
5. The Original Los Angeles Flower Market: The flower market is one of Los Angeles most hidden treasures. I used to wake up really early with my mom on holidays and go
when it was still dark outside to this warehouse filled with millions of flowers. At the time, it was so magical. To this day, I love going downtown to the flower market. Even though I now know that it's not exactly a magical land full of flowers, it's still an amazing place to visit. Even though you are in this dark old warehouse, the millions of flowers bring this old building to life. 




A Day in the Life of a Juicy Model | Day 3
Michele turns our hair & make-up test into a wine tasting….
21 Juicy Questions | Michele Ouellet
We are thrilled to announce that we've tapped the very charming stunner Michelle Ouellet as our official fashion correspondent. The incredibly talented (and quite funny) Michele will take you through the next week leading up to our Fall 2012 Editor Presentation, giving you all the insider info you could imagine.
Here, Michele offers up the answers to our 21 Juicy Questions. You'll be seeing a lot more of her, so get to know her—we promise there's a lot to love! Enjoy xx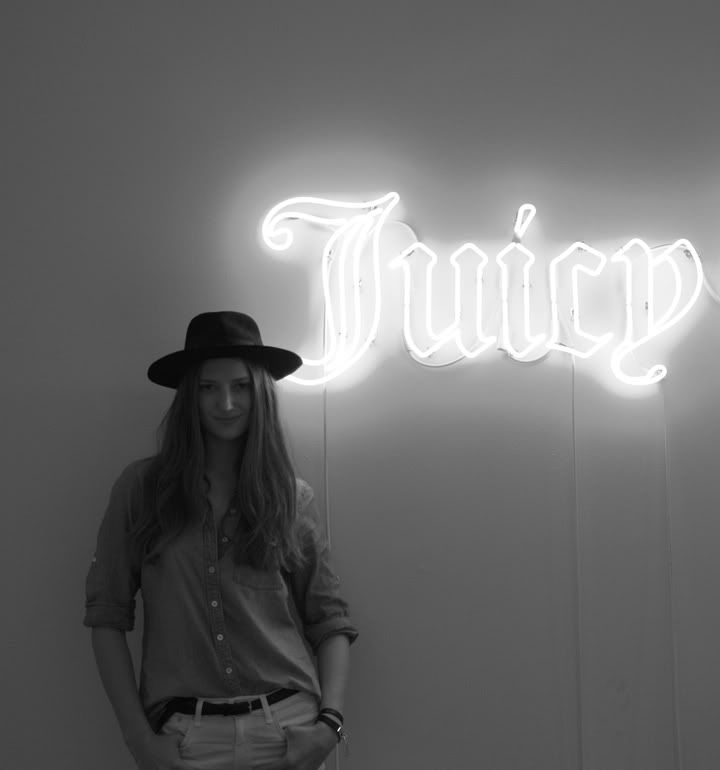 1. THE MOMENT THAT INSPIRED MY WORK:My best friends from Napa and I have been playing dress up since we were 3… and we still do!!!
2. THE WARDROBE ITEMS CURRENTLY IN TOP ROTATION: Jeans by Mother, Newbark flats, T-shirts by Kain.
3. IF I COULD OWN ANY PIECE OF COUTURE PAST OR PRESENT IT WOULD BE: Any look from Fall 2010 Couture Givenchy or most any Alexander McQueen. I especially love the final looks in Spring 07 and Spring 05.
4. A TREND I WILL ALWAYS SIT OUT: All of them and none of them! I am totally open to new trends and will wear what resonates with me at that moment.
5. YOU'D LIKE TO TAKE ME OUT TO DINNER, I SUGGEST…You bring your appetite because I like to DINE!
6. THE CAUSE I'M MOST PASSIONATE ABOUT: Spreading smiles and love to all those you encounter in your everyday life. BE NICE!
7. THE SIGNATURE LOOK I WILL ALWAYS RETURN TO: My beloved motorcycle jacket over anything.
8. IT'S 10 P.M. ON SATURDAY YOU CAN FIND ME…. Drinking rosé and dancing!
9. MY GREATEST TALENT: Rallying the troops. Let's Go!
10. MY STYLE ICON: Anita Pallenberg.
11. MY CURRENT NON-FASHION OBSESSION: Learning about wine.
12. YOU ASK FOR MY NO. 1 STYLE TIP, I SAY…SMILE!!!!
13. THE BEST GIFT I EVER RECEIVED: The opportunity to start my own wine label on my 21st birthday!
14. MY FAVORITE TRAVEL DESTINATION: Home to Napa Valley! Also, I'm dying to go to Jamaica.
15. MY FAVORITE THING TO DO IN L.A. IS: Spending time with my boyfriend who lives there, and walking around the hills checking out the beautiful houses.
16. YOU SAY JUICY TRACKSUIT, I SAY…Cozy time!
17. THE LAST SONG I LISTENED TO: "Heartbreaker" by Mariah Carey ft Jay-Z.
18. THE LAST JUICY BOOK I READ: The Great Gatsby.
19. IF I HAD A SUPER POWER IT WOULD BE: Healing powers.
20. MY CURRENT GIRL CRUSH: Rihanna.
21. FAVORITE NAIL POLISH COLOR: Lucky Lavender!!!!!